Apple presentation 2022 | iPhone 14 lineup and Apple Watch Series 8
Apple's "Far Out" event kicks off today at 10:00 a.m. Pacific Time. We will tell you about the most interesting things from the presentation.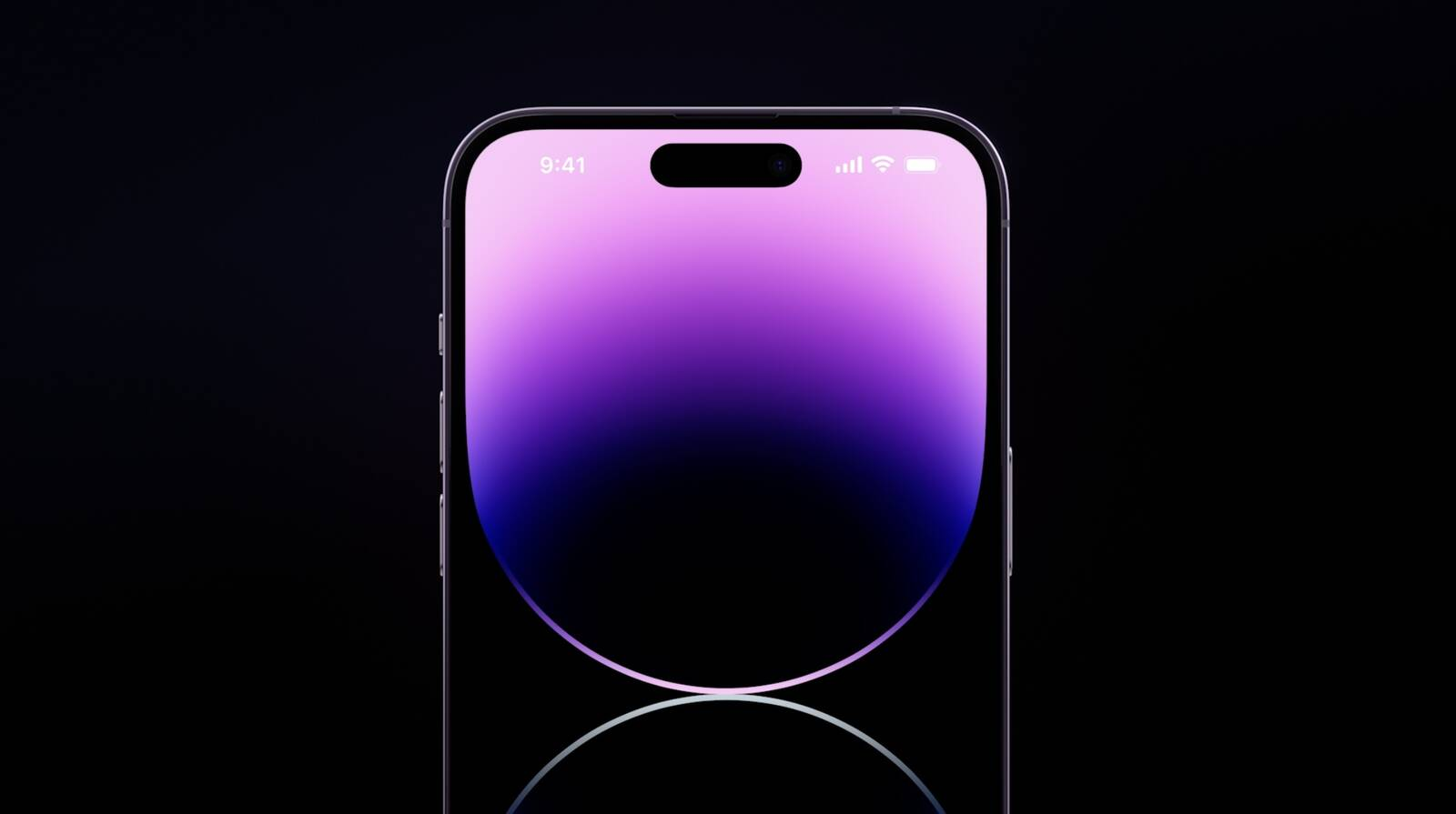 Apple's "Far Out" event kicks off today at 10:00 a.m. Pacific Time. We will tell you about the most interesting things from the presentation.
Apple Watch Series 8
The presentation started with the Apple Watch Series 8 and health topics. The new Apple Watch paid special attention to the topic of women's health. The watch will be able to predict the period of ovulation, track deviations in women's cycles and detect various diseases in the early stages.
Thanks to chips with higher accuracy and frequency, Apple Watch can now automatically detect signs of a car accident and notify emergency services of the incident. The company has conducted many crash tests with various types of accidents.
The design, interface and main features are taken from the Series 7.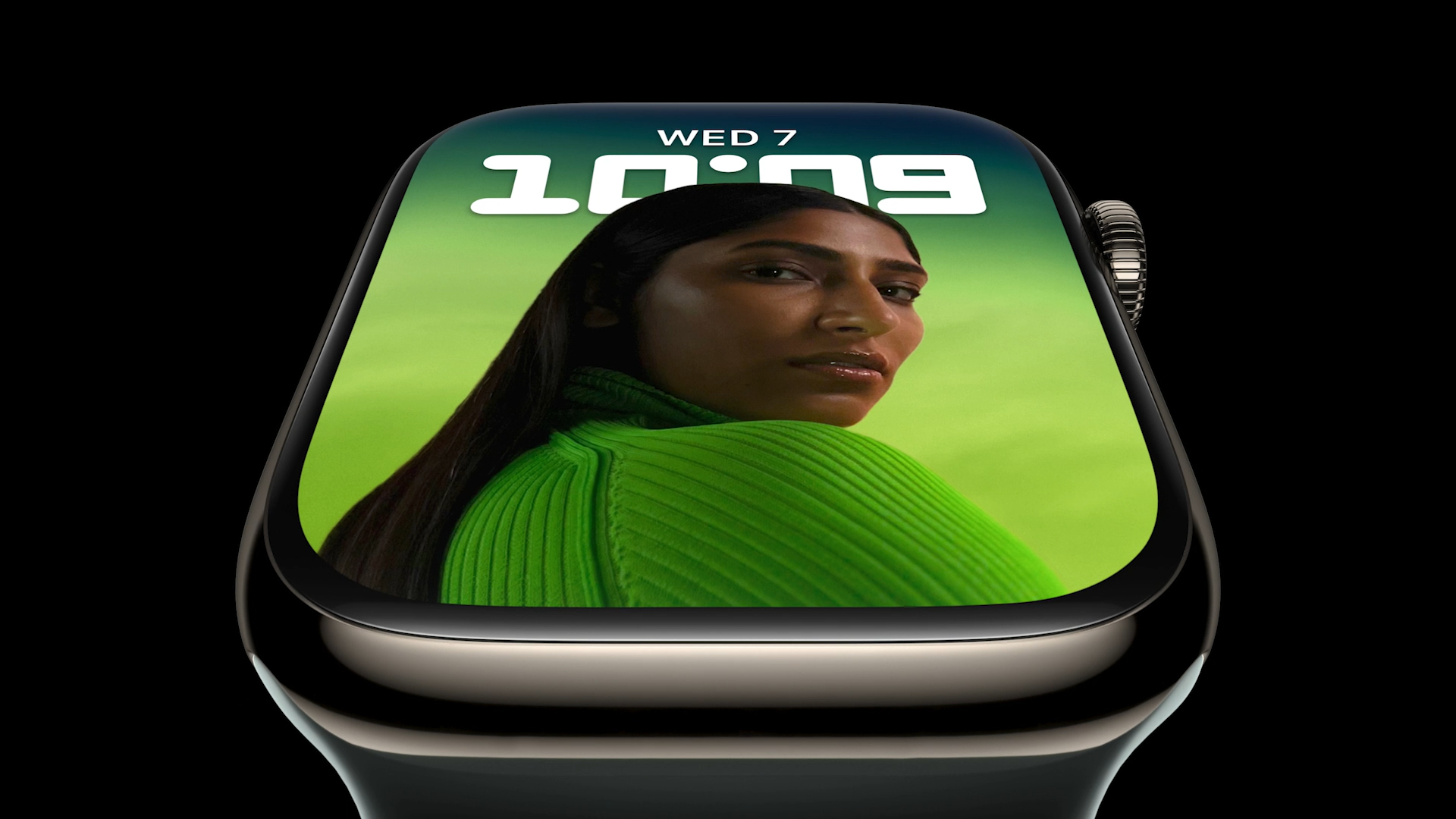 Also featured at the presentation:
New gyroscope and accelerometer.
A new power saving mode that allows the watch to run up to 36 hours - the screen can turn off, but the watch will still track steps.
Introduced four colors: blue, silver, red and "Stardust".
International roaming support for cellular model.
Nike watch faces will be available on all Apple Watch models.
On sale from 16 September. Three months of Fitness+ subscription for free.
Updated Apple Watch SE
Updated gyroscope and accelerometer, like the Apple Watch Series 8, which will also allow you to determine the signs of a car accident.
Introduced three colors: silver, black and "Stardust".
The design and dimensions are taken from the Series 4.5 and 6.
On sale September 16, just like the Apple Watch Series 8.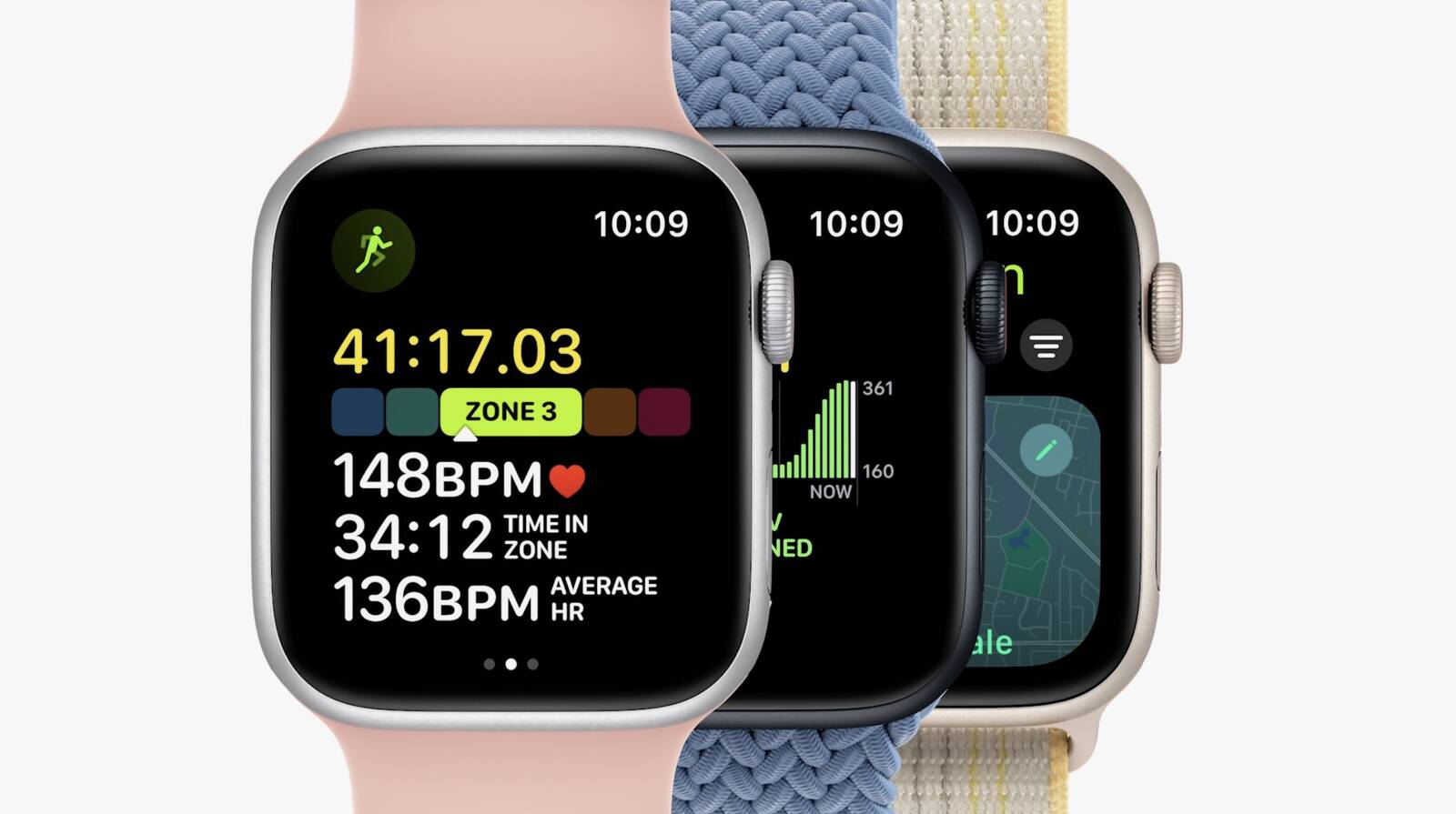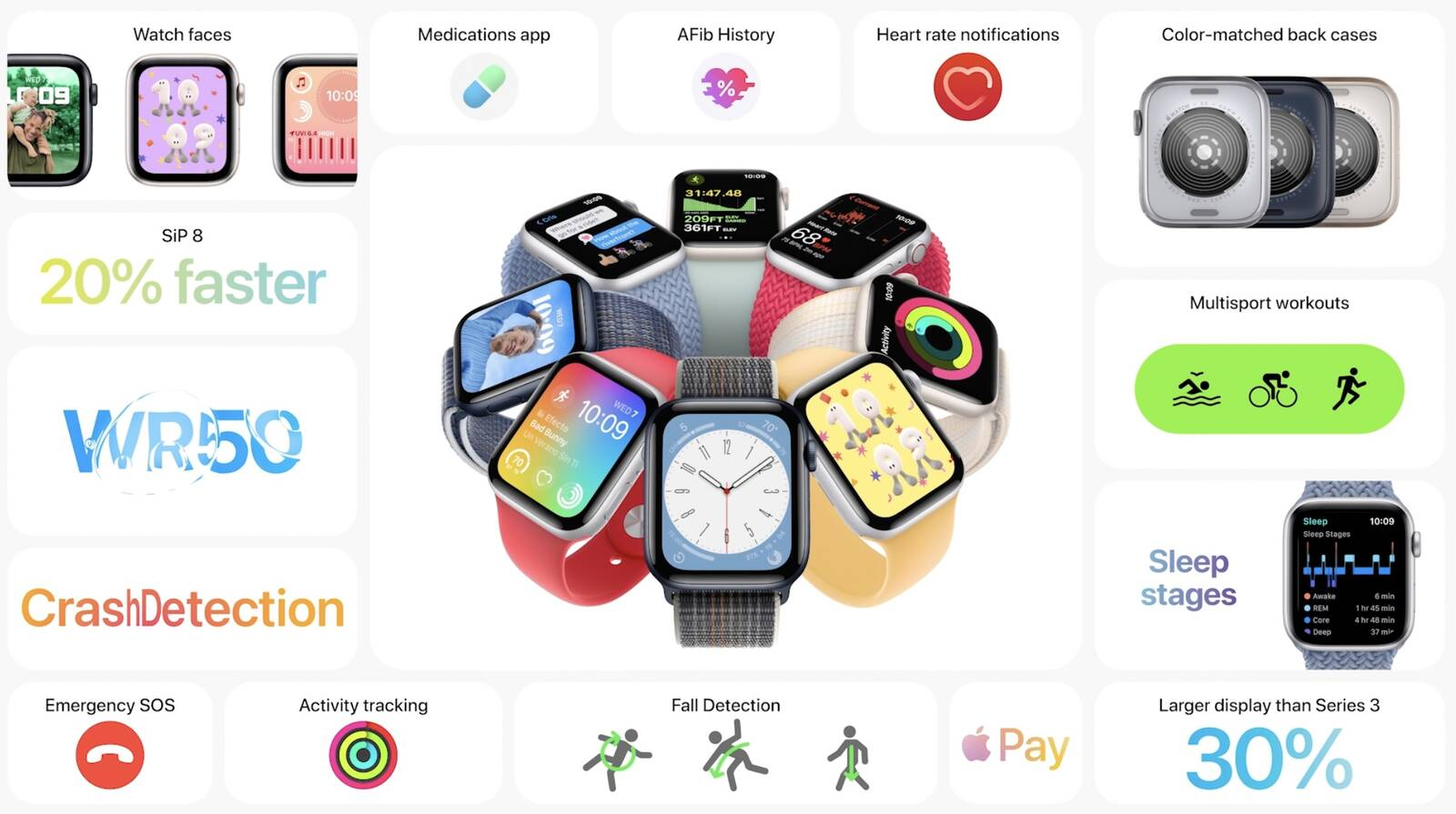 Apple Watch Ultra
Titanium case and sapphire crystal.
The 49mm display is the largest in Apple Watch history.
Possibility of use in gloves.
Additional button on the left side of the case and a second speaker for more volume.
Up to 60 hours in power saving mode and 36 hours in normal use.
GPS standard L1+L5 for more accurate tracking in big cities.
A new watch face specifically for athletes - with a maximum of useful information on one screen. Brightness can be adjusted using the Digital Crown.
Updated compass.
Built-in siren, which can be heard at a distance of up to 180 meters.
Depth app. The maximum diving depth is 100 meters.
A screen with a brightness of 2000 nits, which is also suitable for deep diving. It will be able to show all service information, including water temperature and route.
On sale from 23 September.
AirPods Pro 2
H2 chip for higher quality audio transmission.
Personal adjustment of binaural sound — taking into account the shape of the ears of each user.
The speaker design has been updated to better reproduce higher quality frequencies.
Half the noise in noise canceling mode — thanks to the new processor.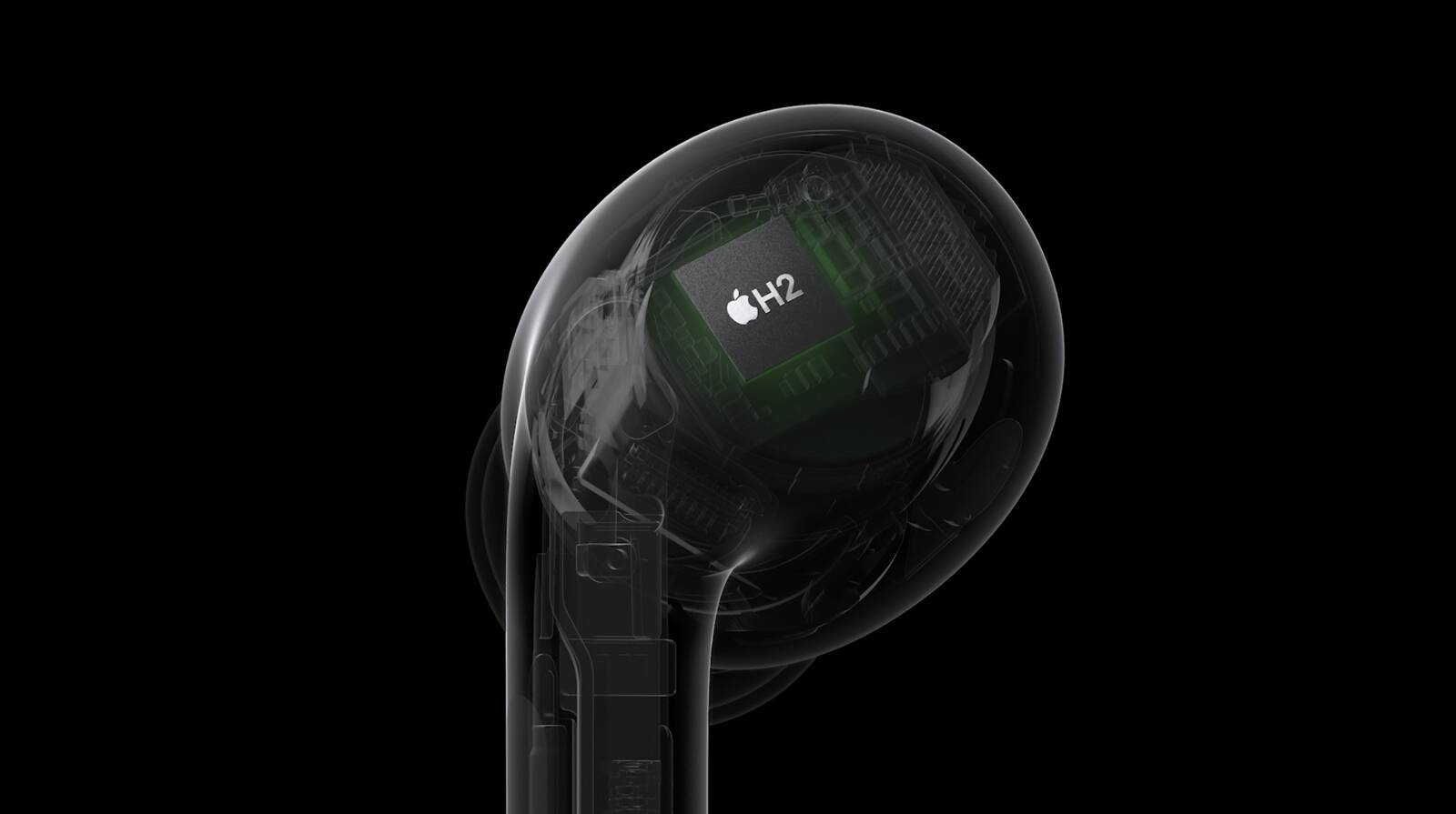 New sizes of rubber plugs: L, M, S, XS.
The "adapted transparency" mode, which removes unpleasant noises (for example, construction sites) but leaves important ones - the voices of people and the sounds of approaching cars.
Up to 6 hours of audio playback on a single charge and 30 hours with case.
The case will be able to make a loud sound from the new speaker in order to be easy to find.
Powered by Lightning, MagSafe and Apple Watch cable.
On sale September 23rd, starting at $249.
iPhone 14 and 14 Plus
New 12MP main camera with 49% better light capture in low light.
f / 1.5 and stabilization by the movement of the sensor (in addition to digital).
Front camera f / 1.9 with autofocus - a first for a selfie sensor.
Updated Deep Fusion for more detailed shots.
A new Photonic Engine algorithm that doubles the quality of night shots on all cameras, including the front.
Screens 6.1 and 6.7 inches.
Brightness up to 1200 nits and support for Dolby Vision.
The 14 Plus has the longest battery life in iPhone history.
Last year's A15 Bionic processor used in the 13 Pro and 13 Pro Max.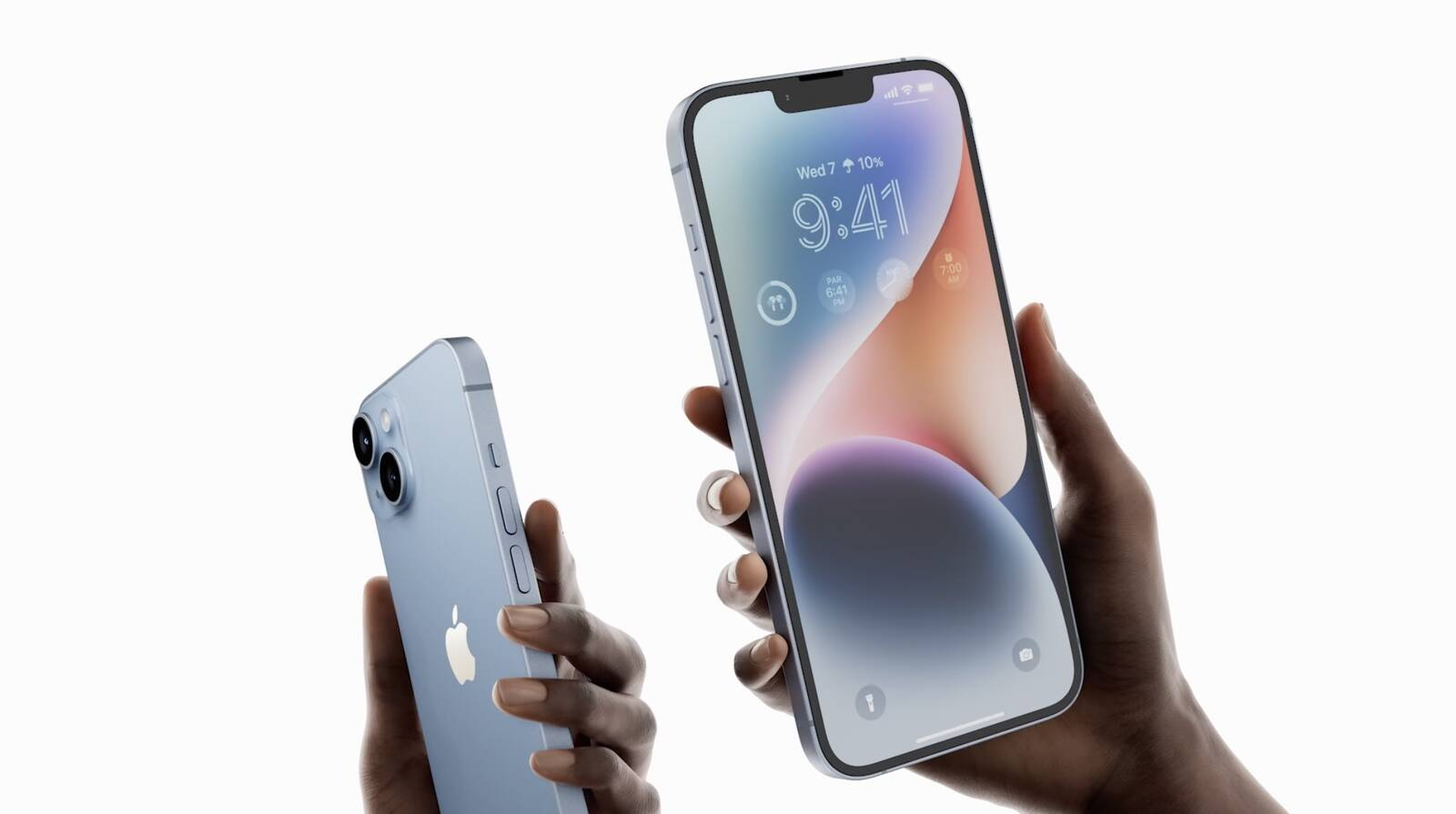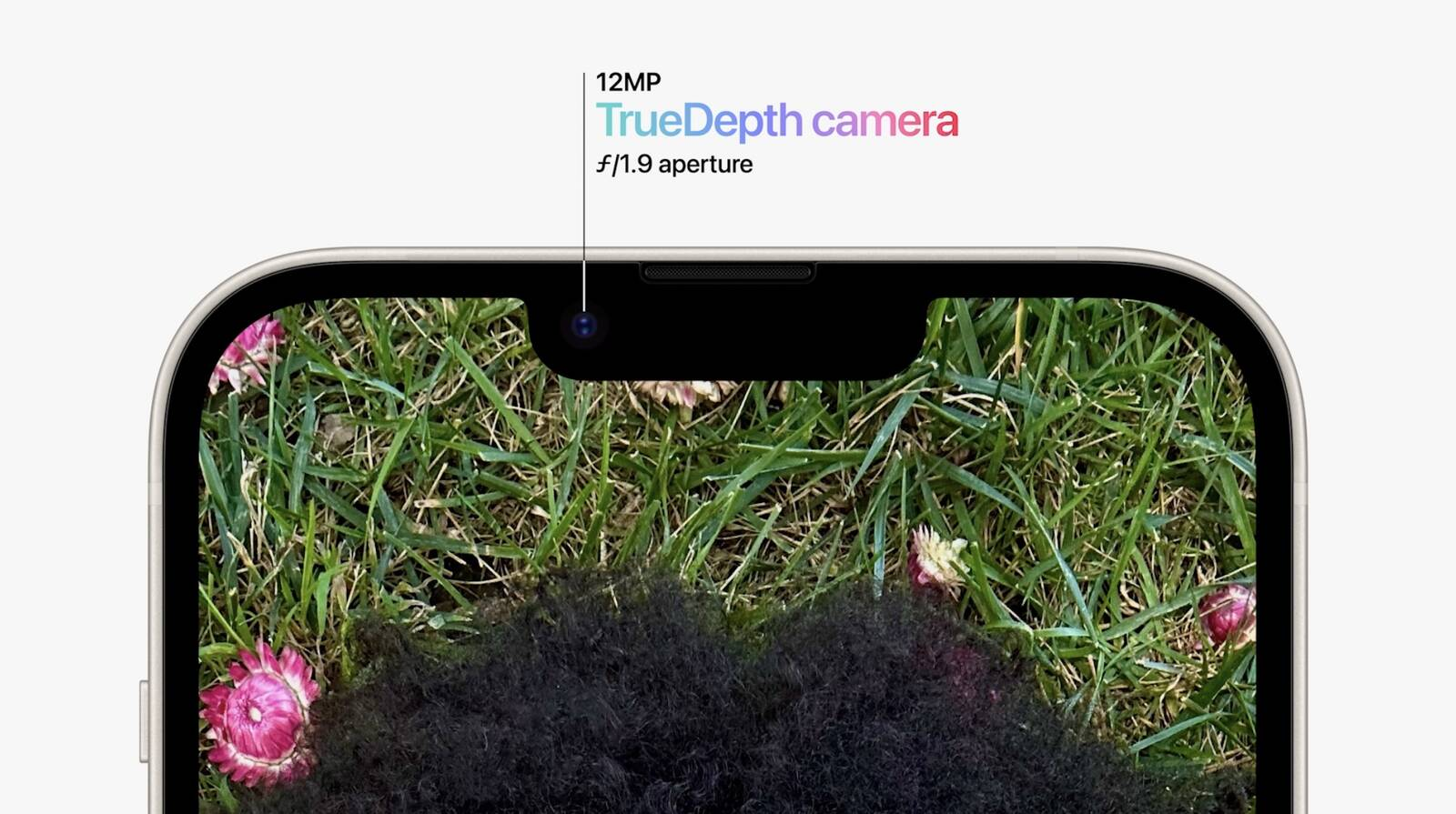 Action Mode — a new type of stabilization for videos shot in extreme conditions. Uses the full size of the sensor to simulate shooting from a tripod.
Expanded eSIM support with fast switching between different operators.
No SIM slot on iPhone 14 in the US.
Motion sensors, like in Apple Watch, with automatic notification of a car accident.
Satellite SOS alert without internet.
iPhone 14 starting at $799 and 14 Plus starting at $899.
iPhone 14 on sale from September 16, and Plus from October 7.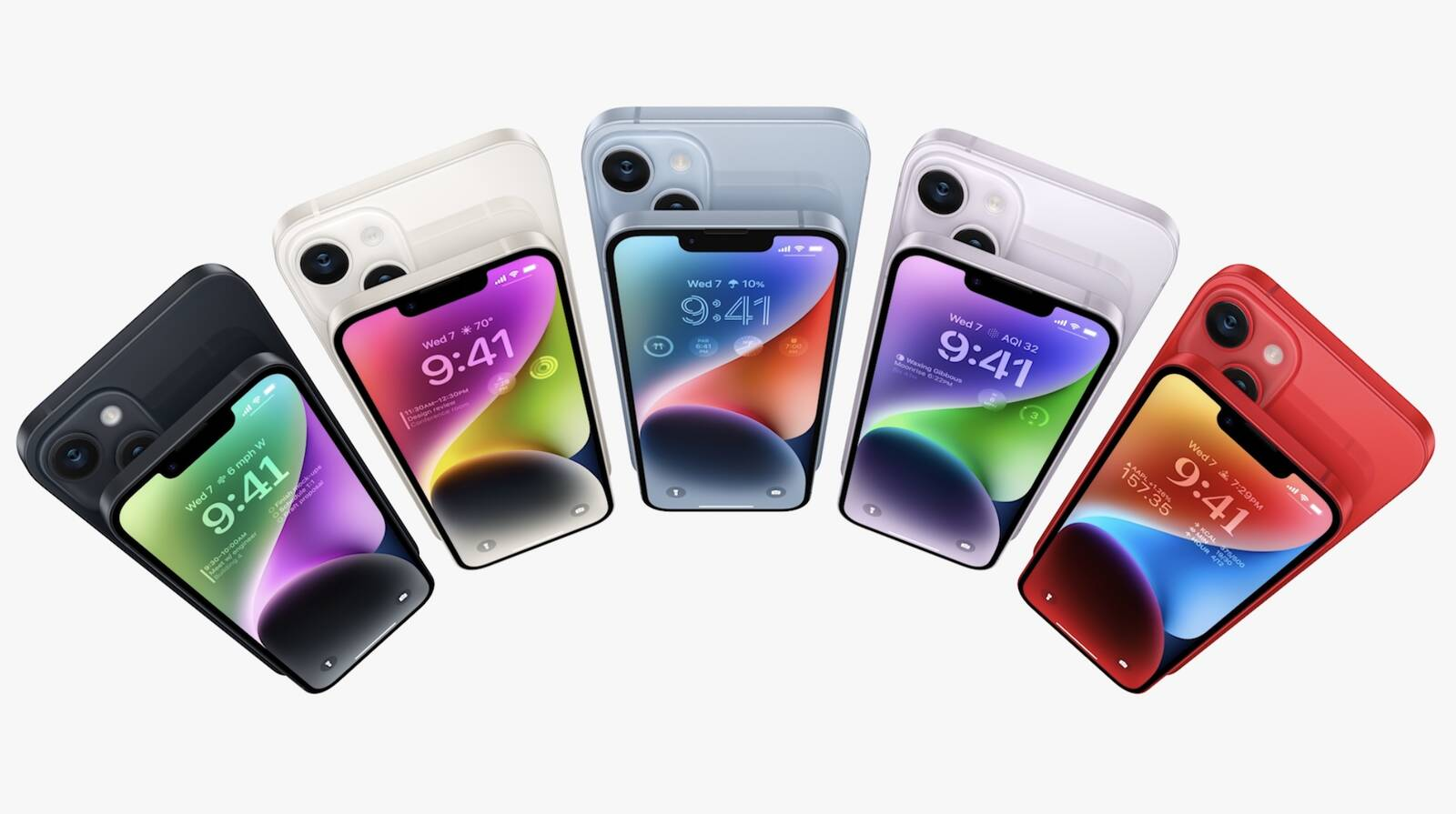 iPhone 14 Pro and 14 Pro Max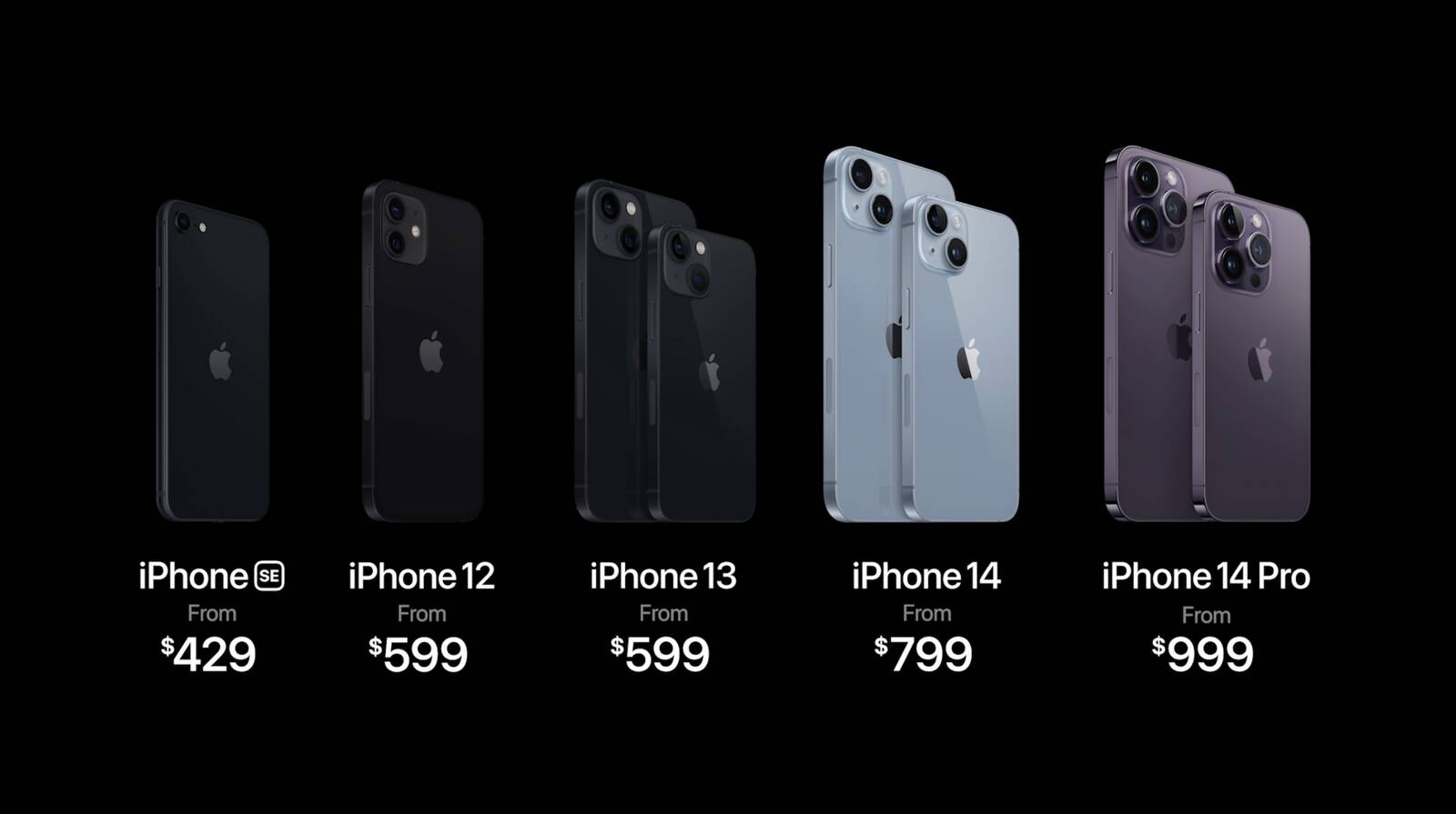 Screens 6.1 and 6.7 inches.
Up to 2000 nits (record for a smartphone).
The frames are thinner.
New color — "dark purple".
The new screen cutout was played as an interface element. When displaying any service information at the top of the screen, the notch will constantly expand.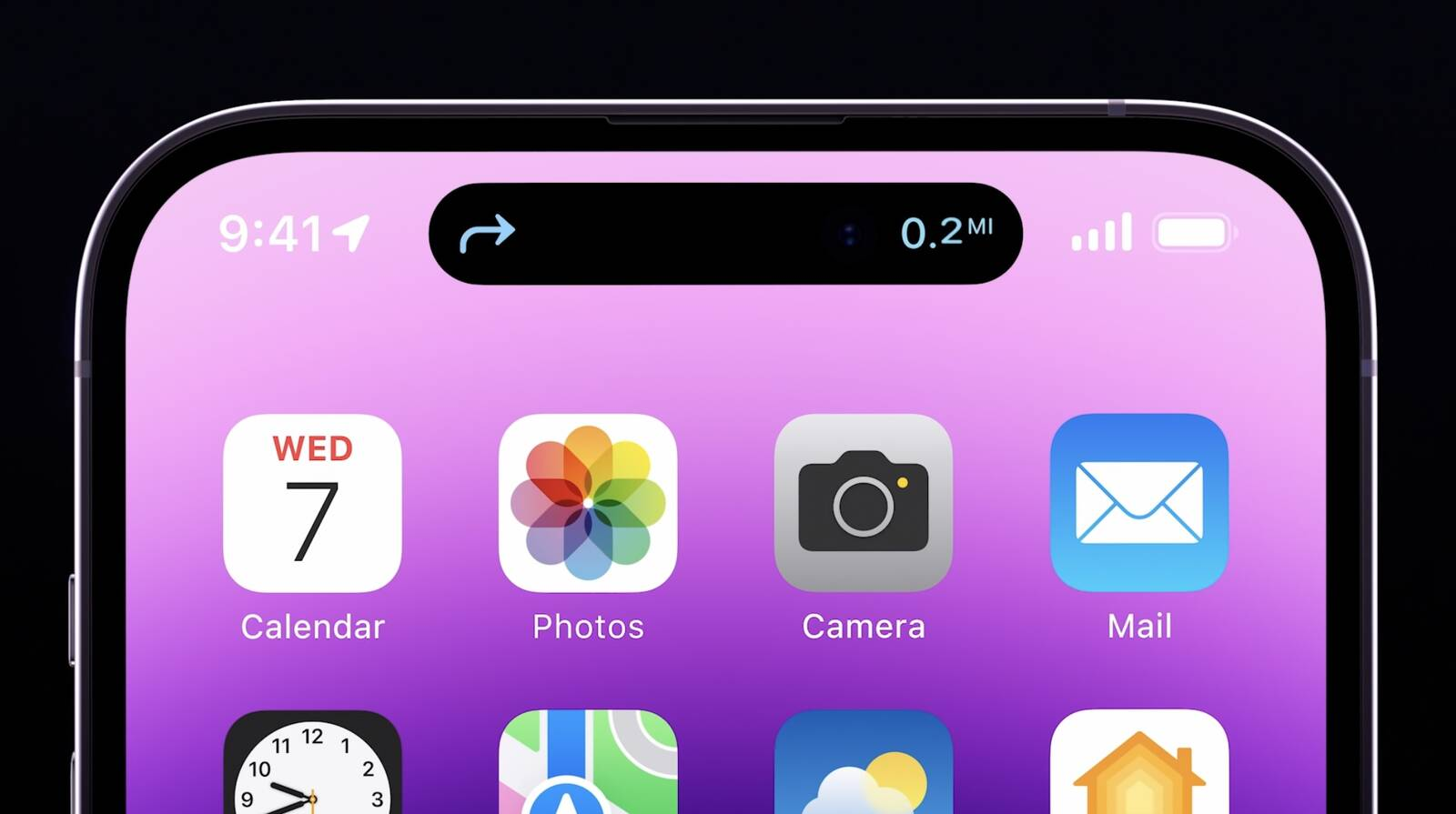 The pro version added a brand new A16 Bionic processor - a 6-core CPU with lower power consumption, a 16-core neural network processor and a 5-core GPU.
New screen processor for intelligent brightness and refresh rates.
The main camera with a 48-megapixel sensor is 65% larger than the 13 Pro.
f/1.78, 7-element lens, 24mm focal length.100% of the pixels are used for focusing.
The new sensor allows you to take sharp pictures with a magnification of 2x, in addition to 0.5x, 1x and 3x.
Up to 50% more light than iPhone 13 Pro.
Shooting in ProRAW mode at 48 megapixels, users have access to all information from the sensor.
Action Mode support for video stabilization.
Thanks to the support of Photonic Engine, like the in iPhone 14, produce up to 2-3 times more detailed pictures in low light.
The flash is twice as bright.
New 12MP ultra-wide camera, improved f/2.2 macro, 13mm focal length.
14 Pro starting at $999 and Pro Max starting at $1099.
On sale from 16 September.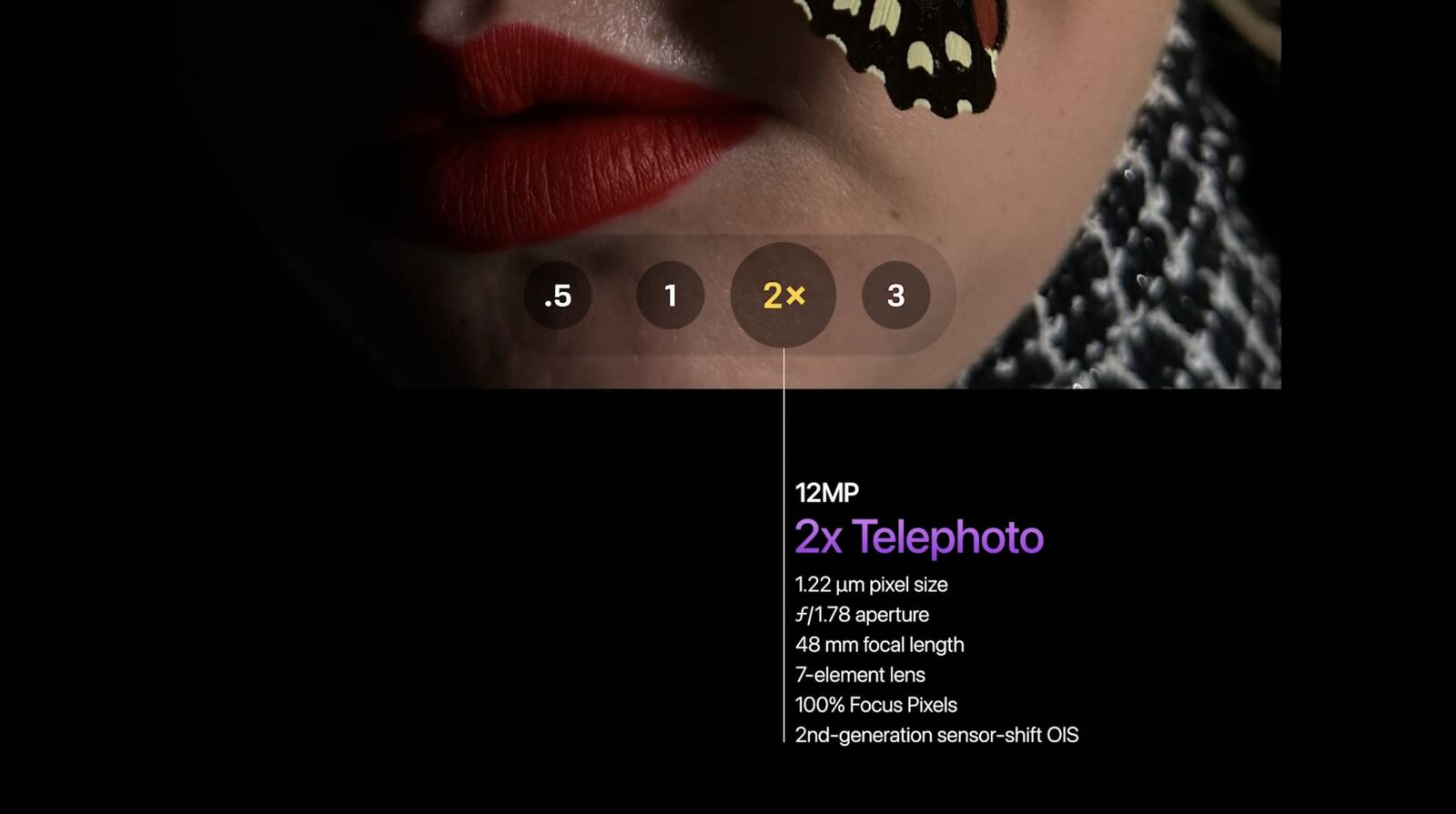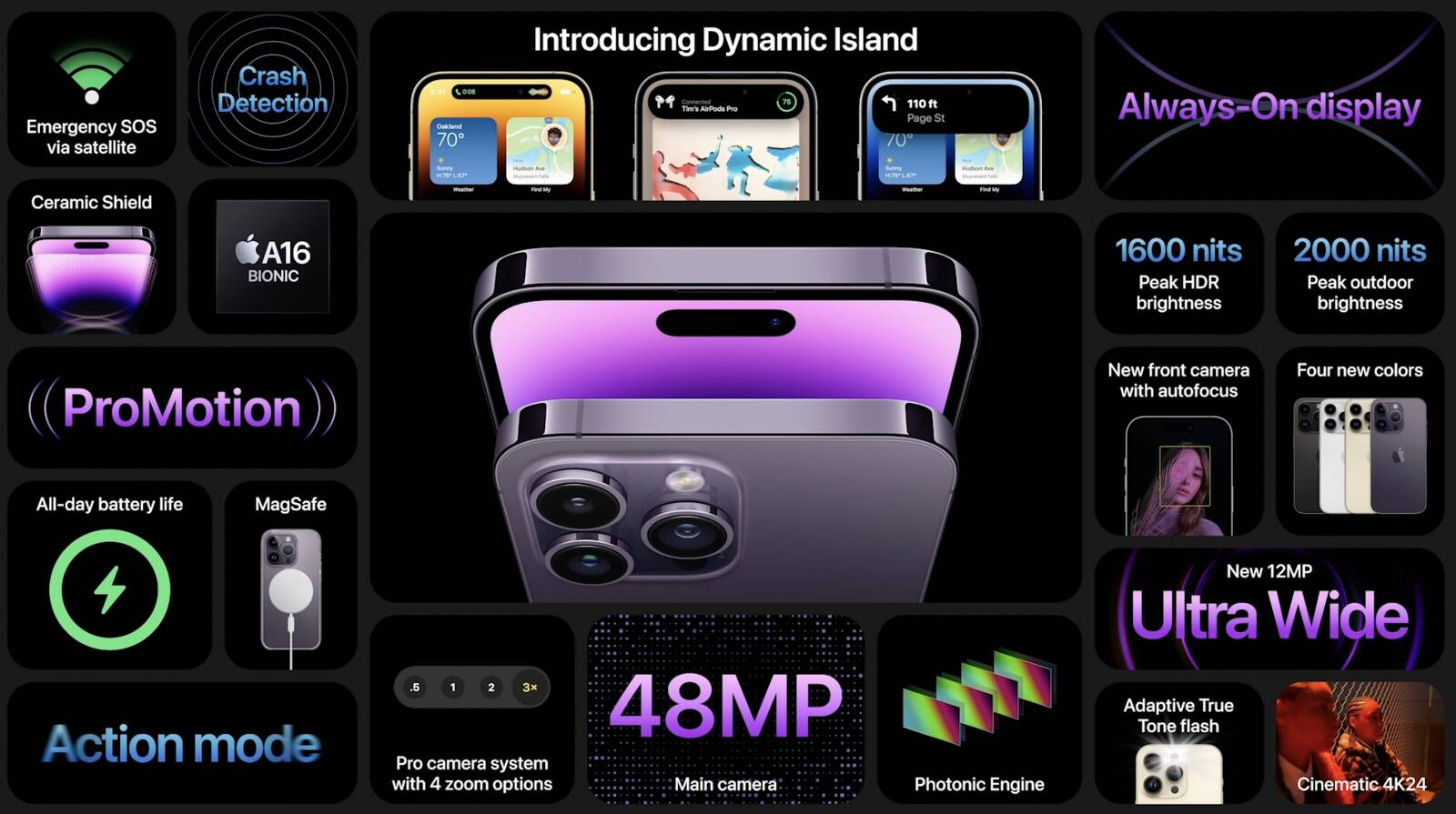 The broadcast is now available to watch live on Apple's website, YouTube, and Apple TV.
Information is updated in real time, so don't go too far.