top 10
Top UI/UX Design Trends for 2023
Top 7 design trends for 2023: web3, neural networks, Adobe's acquisition of Figma, and UX research.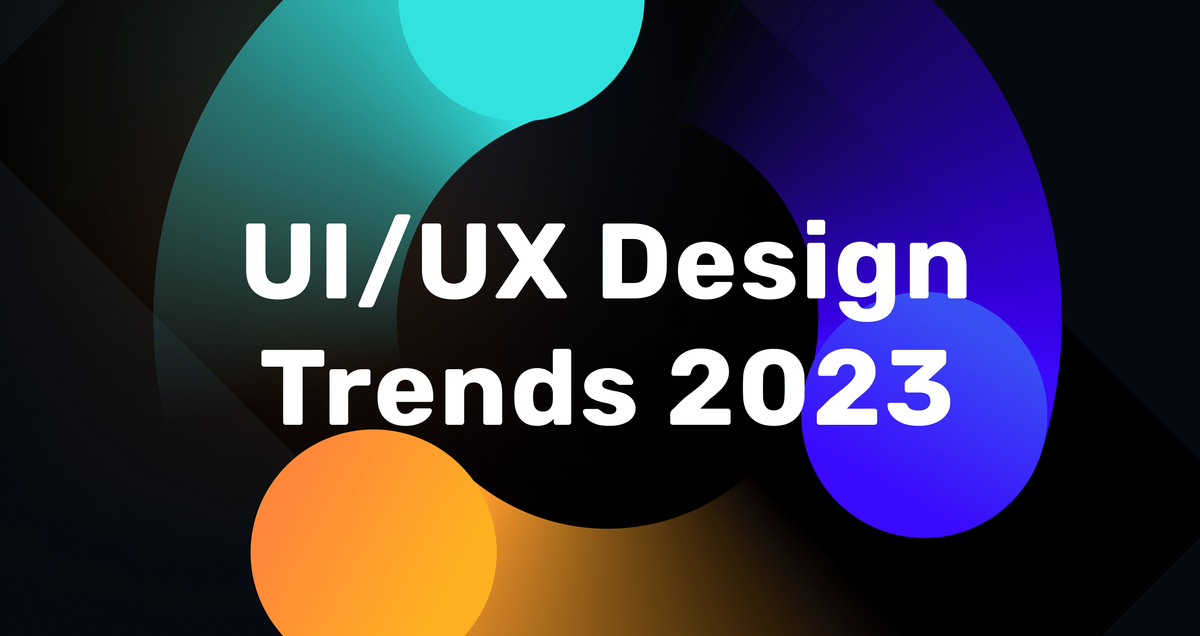 The pandemic has made all businesses rethink their digital products. The stakes on the part of users and entrepreneurs are steadily rising. Products have to meet more and more requirements, but which of these requirements are just hype and which are trends that will stay with us for a long time?
Here we describe the top 7 design trends 2023. Let's talk about everything that will have a huge impact on the design industry this year, including the ubiquitous neural networks and Adobe's acquisition of Figma.
1. Web3 UX challenge
As patchy as the evolution of the Web3 space may seem, it is something that is definitely part of our future. We are slowly but surely moving from the Web2 iteration of the Internet to the Web3 era. And in this regard, there is a demand for good UX/UI designers.
Web3 creates many new tasks and challenges for designers both in terms of visuals and usability.Top Web3 challenges for designers this year:
Ensure a smooth entry for new users to Web3 products;
Ensure the usability of the new format;
Create the most enticing visual: explosive UI has already become a prerequisite for this area.
The global Web3 blockchain market is growing at more than 40% CAGR and is expected to reach $23.3 billion by 2028. Everything points to the fact that for the next two years, even those who did not want to come into contact with Web3 will simply need to do business in the Metaverse. Consequently, there will be more and more work for UX designers in this area.
2. Large font size and immersive experience
This trend is familiar to us from past years and, most likely, will remain with us for a long time. If you take a look at the websites of the world's leading brands, one pattern is clearly visible: large text and large images. Not only does the H1 heading get bigger, but so do the H2, H3 headings and plain text. It's beautiful, readable, and easy. There is no reason not to take this trend with you into 2023.
The immersive design remains impressive as well. Such, for example, are the sites of automobile companies, where everything is presented to you in detail, from the dashboard to the engine. They seem to mesmerize the user, making you to explore their every detail. 3D images, horizontal scrolling, and even music can be used for this (although it's better to be careful with music).
3. Generative AI in the design process
Generative AI is a type of artificial intelligence that is responsible for creating new, original content. It has already become a part of many design processes and has made our life easier. Take a look at the video below from Adobe for an example of Generative AI in action.
Many of Adobe's new features use Generative AI technology: Content-aware fill, Puppet warp, Face-aware liquify, and Global edit tool. There are also many AI-powered websites that help designers create color palettes for projects.
This has become a trend, and in 2023 there will be more technologies that allow designers to complete their daily tasks faster. Top tip: Get used to these technologies and use them to your advantage. They are here to stay.
4. Light mode with an option for dark mode
There is still debate about which is better for vision: dark mode or light mode. However, in this matter, the main trend for 2023 is convenience. And yet the most convenient option is a light theme with the ability to switch to dark.
Your website can look incredibly stylish in a dark or light theme, but it's best if the user accessing it in different lighting conditions (on a sunny day on the beach or under the covers at night) will be able to switch to a comfortable mode.
5. Mass migration from Adobe XD to Figma
In 2022, the design community was rocked by the news that Adobe bought Figma. This will bring us really big changes, despite the fact that Figma was promised to remain autonomous.
One of the most obvious changes: the massive migration from Adobe XD to Figma. Adobe themselves recognized the superiority of Figma over Adobe XD and reduced their investment in it. The chances are high that Adobe XD may be closed altogether in the future.
Figma will also adopt Adobe technologies in digital imaging, video, 3D, artificial intelligence, and more. It is expected that in 2023 a large number of users will decide to switch from Adobe XD to Figma.
6. Accessibility becomes a legal requirement
Back to last year's news: in 2022, all EU member states adopted the European Accessibility Act. It obliges all enterprises of these states to comply with the requirements of the law by 2025.
The set of general rules for accessibility standards from the new law affects a wide range of products and services, from e-books to ATMs. This is good, as it will allow the elderly and people with disabilities to freely use all the products.
In 2023, accessibility will not just be a trend, but a necessary condition, so keep this in mind in your new projects.
7. Creating values through qualitative UX research
The qualitative UX research trend is back in 2023!
A short digression: there are quantitative and qualitative UX studies. Quantitative data is the bare facts — the numbers. They are structured and statistically processed. Qualitative ones are more related to the impressions and opinions of people and bring a human factor to your research. These two research methods complement each other.
For three years now, due to covid restrictions, many companies have neglected qualitative UX research, focusing only on quantitative. In the new year, the situation should change.
Quantitative research helps you track the performance of your product, but qualitative research helps you better understand your users, capture changes in their behavior, and improve interactions with them. If you're still only focused on quantitative data, it's time to adjust your plans for 2023. Qualitative UX research is on trend again.
Outcomes
2023 has every chance of becoming a breakthrough year in UI/UX design. There are major changes on the horizon that have been maturing for several years before. Our task is to quickly adapt to them and get the maximum benefit from them.