UX tools
Figma Introduces AI-Powered 'Jambot' for Enhanced FigJam Experience
A new era of collaborative design is here as Figma introduces Jambot, the new AI widget designed to improve teamwork productivity on the FigJam platform.
Figma has recently unveiled its AI widget, Jambot, designed to elevate productivity and teamwork within the FigJam platform. The tool enables users to create visual mind maps collaboratively, initiate brainstorming sessions with multiple threads, and even engage in idea generation alongside teammates and ChatGPT within the same canvas. This strategic move follows in the footsteps of Figma's continuous efforts to enhance user experience and creative collaboration.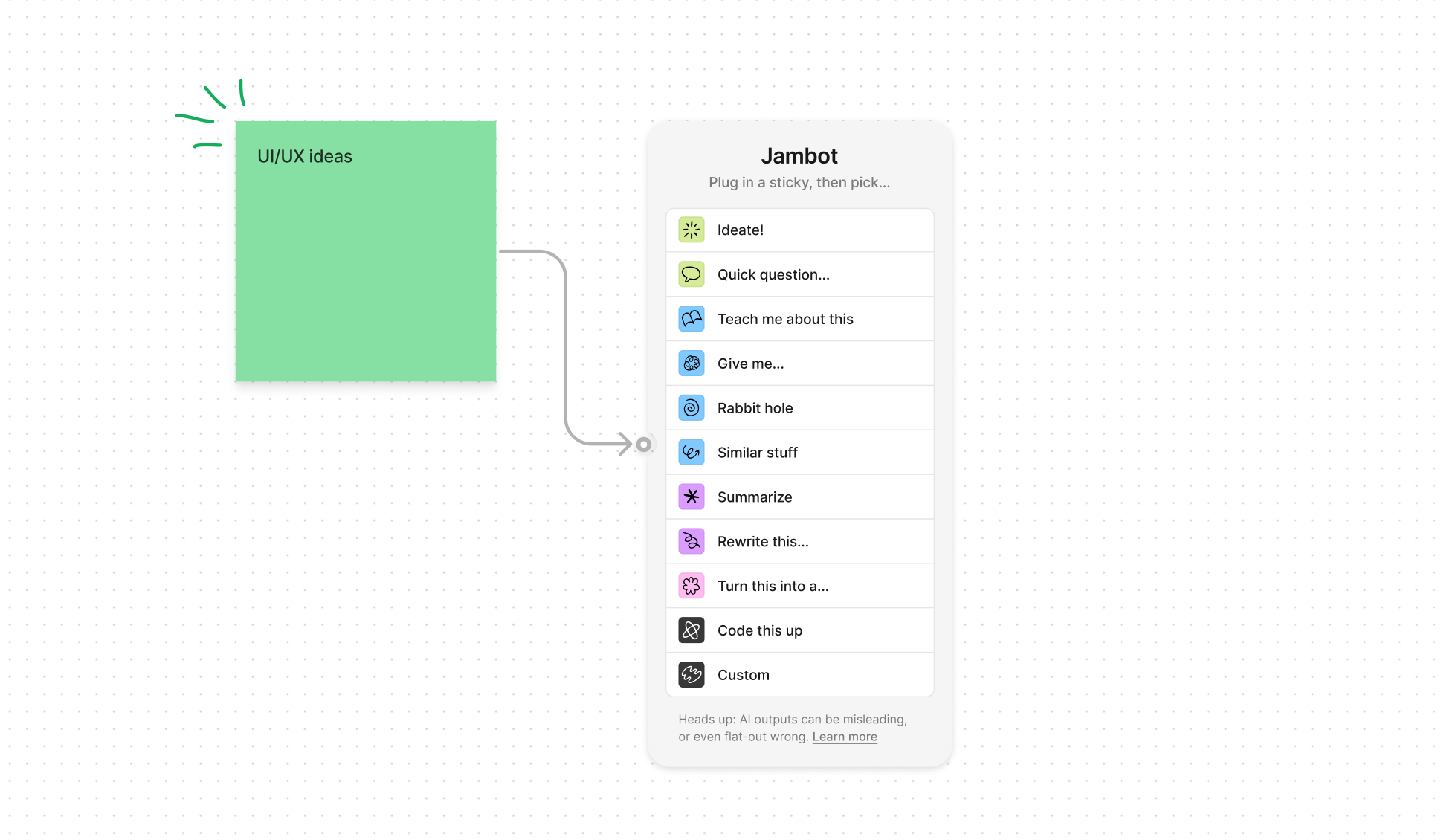 To locate and use the Jambot widget in FigJam you shall go to the stack of recently used icons in the toolbar, navigate to the Widgets tab, search for «Jambot» and add the widget to the board. For existing stickies on the board it will work as well – just connect the Jambot widget to the sticky or section, and select a function.
Jambot's key functionalities include:
Ideate! - Generating ideas based on text input.
Quick Question - Enabling queries about text content within sticky notes.
Teach Me About This - Providing explanations about sticky note content.
Give Me… - Offering examples, facts, and ideas related to text content.
Rabbit Hole - Facilitating deeper exploration of topics.
Similar Stuff - Suggesting related subjects to expand exploration.
Summarize - Condensing stickies into bullet points or summaries.
Rewrite This - Changing the tone or style of a text.
Turn This Into a…- Transforming selected text into a song, poem, or joke.
Code This Up - Generating code based on sticky note descriptions.
Custom - Allowing users to craft their own prompts.
Although Jambot is currently in open beta, certain features may be limited due to high demand.
This AI integration marks a significant stride towards enhancing collaborative design. Figma's acquisition of Diagram and Clover Notes earlier this year underpins their commitment to incorporating AI capabilities into their platform. Noah Levin, Figma's VP of Product Design, envisions AI's pivotal role in augmenting team collaboration by expediting ideation, streamlining design processes, and providing developers with insightful context for more efficient production code. With the unveiling of Jambot, Figma not only reaffirms its dedication to innovation but also empowers its users with an decent and handy AI-driven tool that reshapes the dynamics of creative teamwork.