SM UX
Stories Now Available on Telegram
Telegram has officially launched Stories. Currently, the feature is exclusively accessible to Premium subscribers.
Telegram has officially launched Stories. Whether you're an iOS or Android user, obtaining the latest update is simple – just head to the official website, Google Play, or the App Store.
As of now, the privilege to post stories on Telegram is exclusive to Premium subscribers. However, Telegram has plans to make this feature accessible to all users in the near future.
Key insights and features of the new Telegram Stories
Now, you can find a new section called 'My Stories' in the 'Settings,' where all your publications are conveniently archived.
When publishing, you can choose the period that the Story will "live" — from 6 to 48 hours. It is also possible to choose how the history will remain in the profile after this time.
There will be a limit on the number of stories that can be posted per day (no more than 100 stories).
You can add text captions to Stories: 200 characters for regular users and 2048 characters for Telegram Premium owners.
It is possible to shoot Stories with two cameras at the same time — the image from one of the cameras will be in a small circle, as in video messages.
The story can be made available to everyone, only to contacts, to a list of close friends, or to specific people.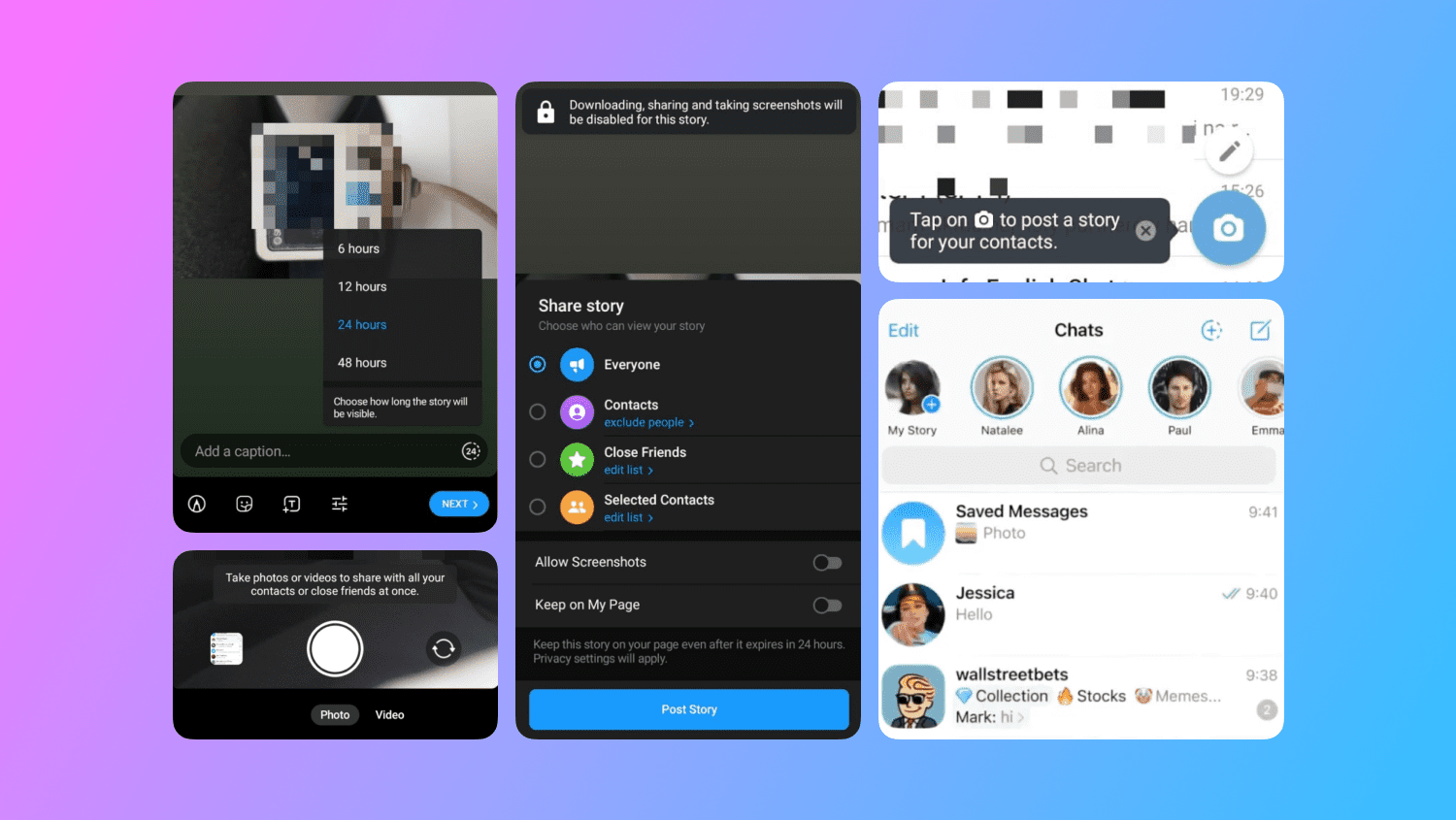 The built-in Stories editor almost repeats the classic photo editor in Telegram. You can blur something, paint, highlight, add stickers, as well as apply color correction settings.
When users are mentioned in Stories, they will receive a notification.
When adding users to "close" they will also receive a notification.
Special privacy settings are available.
Premium subscribers will have access to a larger selection of story auto-delete options. They will be able to set the auto-delete timer for stories to values not available to free users.
Unfinished story can be sent to drafts.
Stories can be archived and returned from the archive.
Most likely, stories can be edited after they are published.
The owner of the story will be able to see the list of views (this list will disappear 24 hours after the story is deleted).
Users will have the right to restrict downloads, screenshots and screen recording when viewing history.
There will be an option to privately reply to Stories.
There will be an option to turn off replies to Stories.
It will be possible to forward Stories.
Stories can be zoomed in by pinching the screen.
You can optionally turn on notifications for new Stories.
Telegram will offer to enable notifications of new stories from those 5 users with whom you communicate most often.
There will be an opportunity to send a complaint about the stories
It is also highly probable that the Telegram team will start announcing future updates through Stories.