UX updates
Google introduces new features for Maps, Search and Shopping
Google is starting to implement new features for Maps, Search, and Shopping.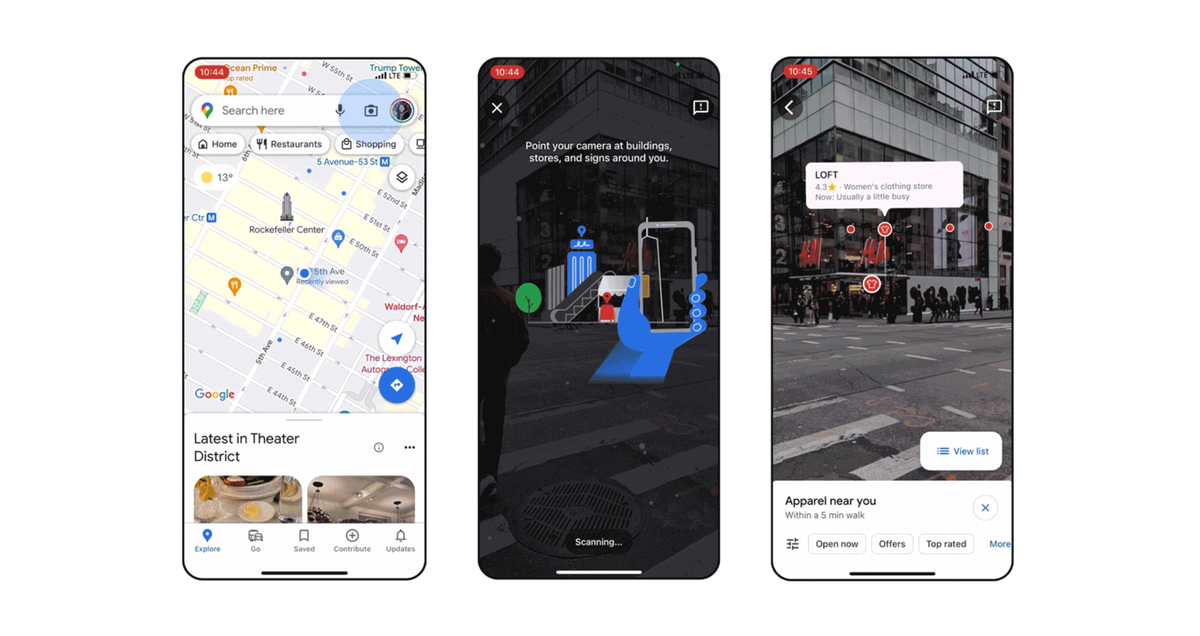 In September, during its Search On event, Google introduced many exciting features for Maps, Search, and Shopping. Now the company is starting to implement them for users. Let's see what new features we will have soon.
Maps
New visual search called Live View that lets you see nearby stores and other places using your camera.
Easy search for the best EV charging station for your vehicle.
The Accessible Places feature, designed to help people determine whether a place is wheelchair accessible, is now available globally.
Google is launching a new visual search called Live View. To use it, you need to lift your phone and tap the camera icon in the search bar. On the screen you will see the signs of the nearest shops and other places, such as cafes, banks and ATMs. In addition to displaying information about where places are, users will be able to see key information about each spot overlaid, such as whether the location is busy, if it is open, what the price range is, etc.
So far, the feature has only been launched in some major cities such as London, Los Angeles, New York, Paris, San Francisco, and Tokyo.
Another new feature of Maps makes it easier for electric car owners to find the best charging station for their car. To do this, enter in the search "EV charging stations" and select the filter "Fast charge". You can also filter stations that offer the plug type of your electric vehicle.
Google also announced that it is expanding its "accessible places" feature globally. Previously, it was only available in the US, Australia, Japan, and the UK. This feature allows people to determine whether a place is wheelchair accessible, if a place has accessible seating, restrooms and parking. Also the feature is useful if you just want to avoid stairs.
Search
Favorite dish search.
Multi-search for specific dishes near you.
Now, through Search, you can find your favorite dish in the restaurant closest to you. For example, you can type "pineapple pizza" to see which nearby restaurants have the dish on the menu. Plus a search will give you more information about the dish's price, ingredients, and more.
It's also now possible to use Google's multi-search to find specific foods near you. This way you can find any food you like on the Internet by photo. Using Lens in the Google app for Android or iOS, you can take a photo or screenshot of a dish and add the words "near me" to find a place that sells it nearby.
Shopping
A photo library for finding the perfect base for your skin tone.
Shop for shoes using AR.
With the new augmented reality shopping feature, you can now find the perfect foundation for your skin tone. Google revealed its photo library of 148 models representing a wide range of skin tones, ages, genders, face shapes, ethnicities and skin types. Now you can Google the product you want and see how this foundation looks on models with similar skin tones, including before and after shots.
Users will also be able to buy shoes using augmented reality. This is now possible with shoes from brands such as Saucony, Vans and Merrell. But according to Google, this feature will be compatible with more brands in the future. With this feature, you can rotate, scale and see the shoes in your space, so it's easier to see if you like how they look in reality.